Posted by Rajni Chawla
Good morning friends...
It was an awesome day yesterday. It is officially announced now. I am on Heartfelt Creation's Design Team now. I m so very excited to join this amazing team. Although I was known to the news weeks back, still the excitement to share the news with all my crafty friends was same. I am really really overwhelmed to look at the love and response you all have showered on me yesterday on my timeline. I can not put into words how amazing it feels to get appreciated. Thanks once again for admiring all my hard work.
Now, 0n to my celebration post.
If you are new and landed on this post directly then do take out some time to visit my very first celebration post
HERE.
This very post is again the part of the series of my one-month celebration of the GIVEAWAY on launching my new website. I am having a celebration whole month and you can win fabulous prizes from many sponsors where you can shop for your own choice. You can check all the details on very first
Giveaway Post.
Today I am announcing the 6th sponsor for the giveaway...
Papericious
!!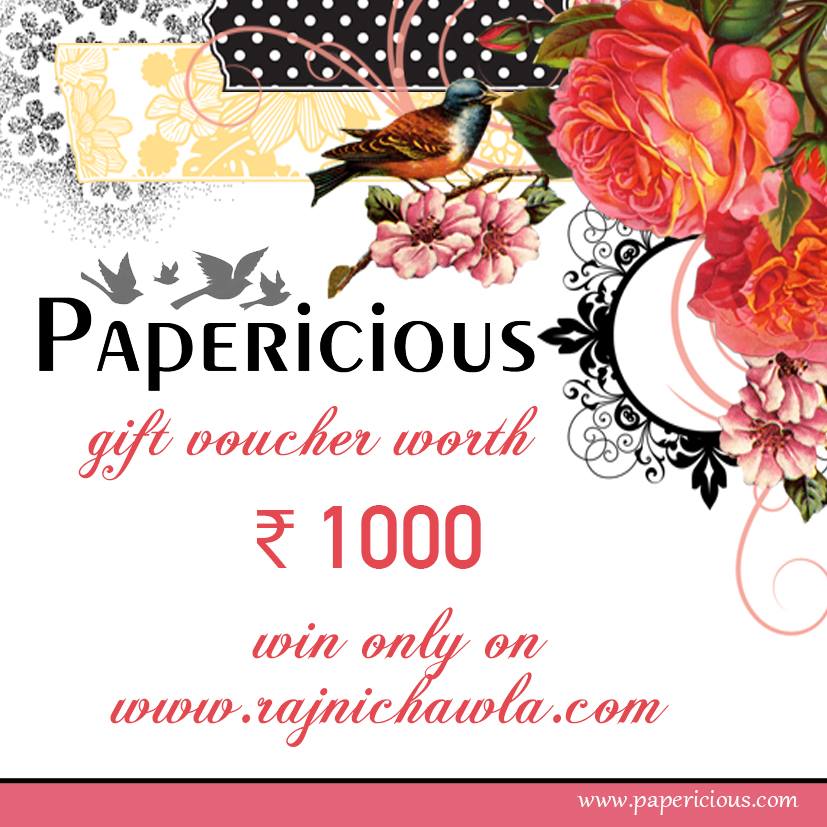 Papericious is successfully run by a very young couple Aastha Jain and Gautam Jain. Papericious is India's first pattern paper making company. Starting from gorgeous scrapbook papers, it has out grown into making of matching paper embellishments, stickers and planner kits too. They have over 35 gorgeous designs to choose from scrapbook papers which are successfully being supplied to not only India but in many other countries too. This MADE IN INDIA production has touched the hearts and hands of many renowned crafters across the globe. They are successfully running their
inspiration blog
where India's top designers are on board showing wonders with their products. The sole purpose of Papericious is to provide best in class craft supplies at affordable prices right here in our country. Moreover, they recently announced to provide their customers with loose sheets for bulk production. They have their
facebook group
where they discuss the regular needs of crafters.
Here is the planner which I loved working on for my personal use. I really loved the quality they have maintained to use various mediums for mixed media. You can check more detailed picture here.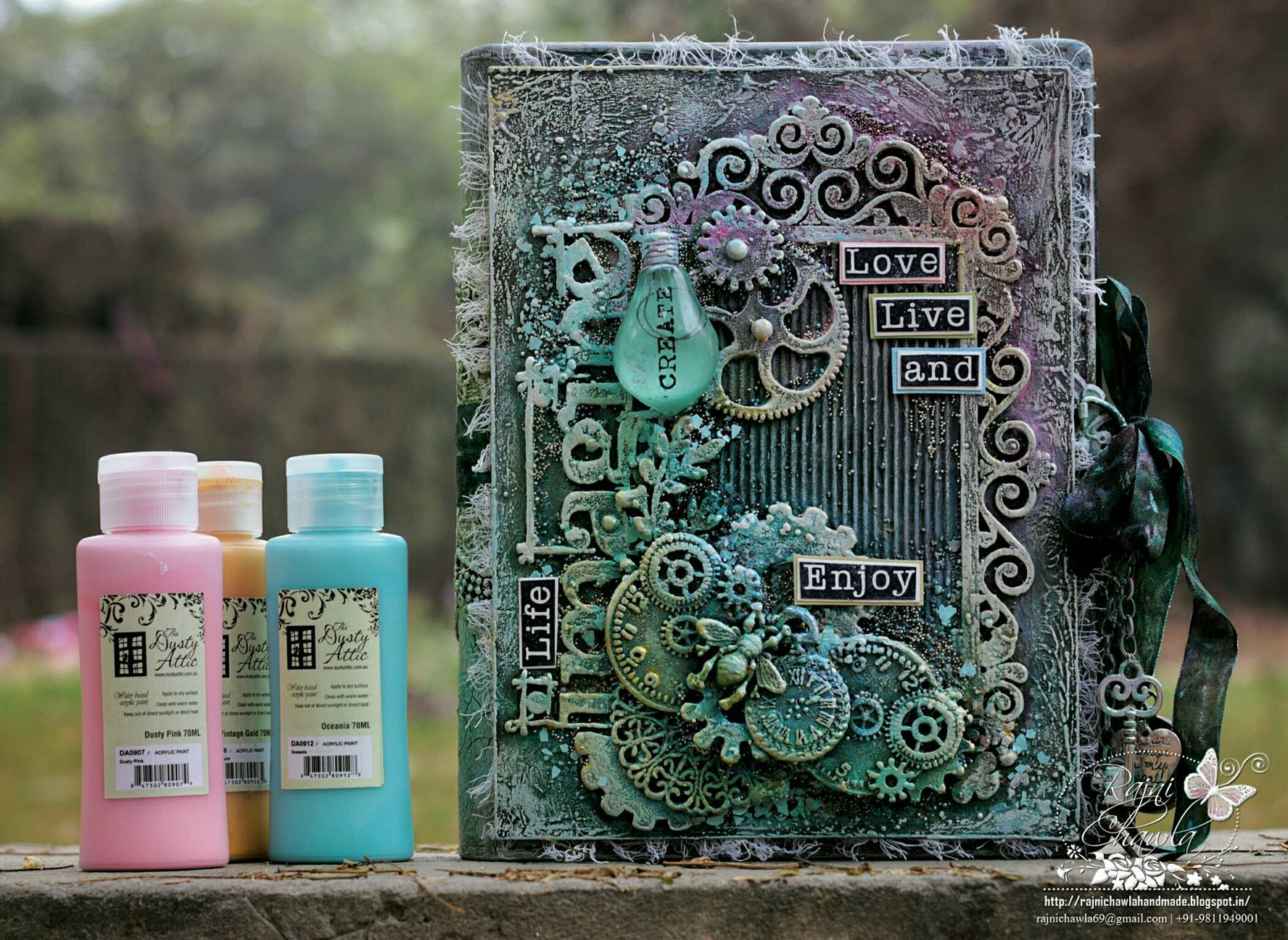 And here is the album made using their gorgeous pattern papers which I taught in my last Mumbai workshop. The high-quality scrapbook paper they provide is acid-free and lignin free and works very well with all mediums and resists.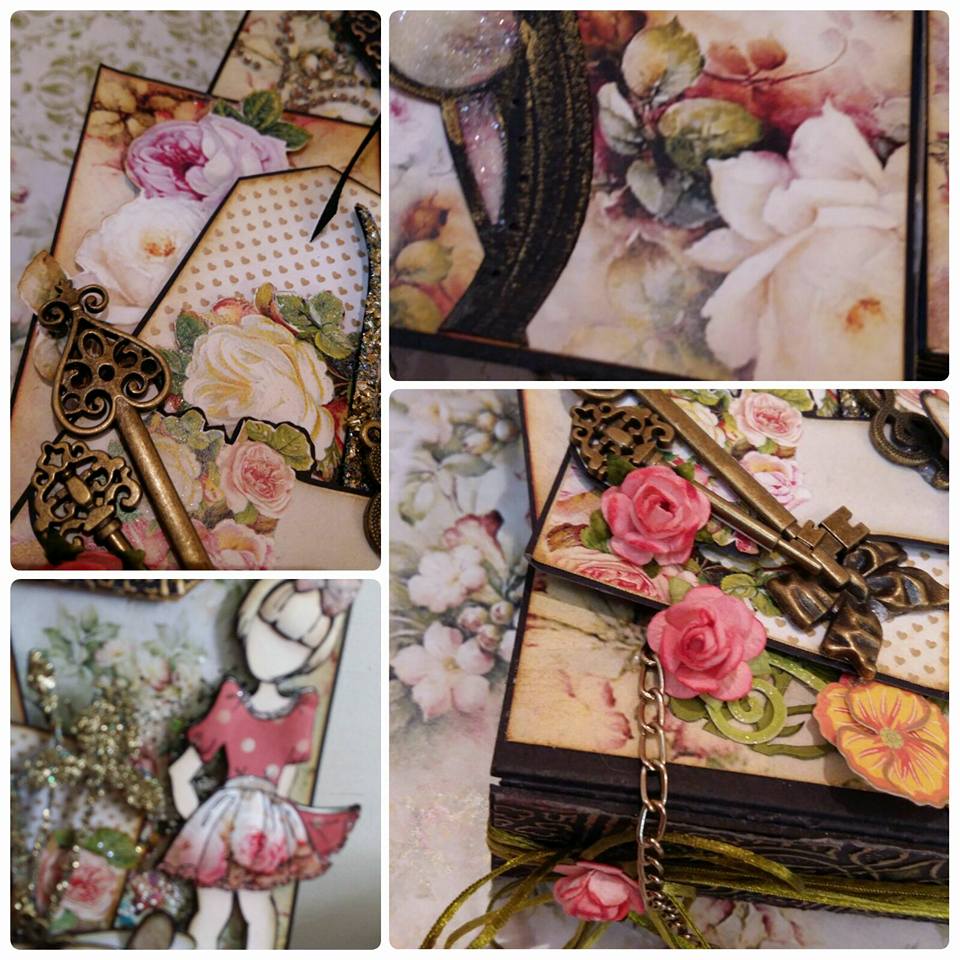 Here is what Aastha says when I asked why she wanted to sponsor my giveaway…
To celebrate the grand launch of my website, Papericious has generously announced a

gift voucher worth Rs 1000 to one lucky winner to shop at their website.
Simple rules to follow:
Comment on the sponsor's giveaway posts for an extra chance to win the sponsor prize.
Don't forget to Like and share sponsor's facebook page.
Leave a token of love as a testimonial on the sponsor's facebook pagehttps://www.facebook.com/groups/112598839123429/. They will really feel loved and will appreciate your efforts too.
Also, join sponsor's facebook group for latest updates.
Share all the crafty posts that I make on my timeline and keep the settings open for public.( I m repeating this step here as crafters are not following this).
Don't forget to comment on the main celebration post and giveaway posts already announced to increase your chances of winning prizes.
Giveaway closes on 13th of May and the result will be announced on 18th May 2016. So hurry up and join me in my celebration.
I have lots more sponsors to announce that are celebrating by sponsoring my giveaway. So, stay tuned and watch my website and social media channels for more.
Thanks for your kind visit...
HAPPY CRAFTING !!