Debuting Celebrate the Season Collection
Posted by Rajni Chawla
Good Morning all...
Can't believe, half the year has already passed and its turn to design something for Chrismas. Let's celebrate Chrismas in July...How this sounds??
Yes..it's second Wednesday and Heartfelt Creation has stunning based on holidays and Chrismas.
The time has come to once again "Celebrate the Season" with Heartfelt Creations! Non-traditional in color, this new holiday-themed collection showcases an assortment of exceptional winter hues…shades of teals, pinks, greens and violets resembling the northern lights, whites as crisp as freshly fallen snow and ice blues mimicking frozen ponds beneath the blades of gently gliding ice skates. Four fanciful cling stamp sets filled with old fashioned themed illustrations of ornate sleighs, wooden gates, gifts, skates, mittens, and simple wreaths filled with poinsettias and greenery, along with an assortment of charming sentiments will bring feelings of nostalgia from Christmas past to all of your crafty creations while being paired with the contemporary color palette of Christmas present. Three coordinating sets of dies will have you creating your very own dimensional embellishments perfect for holiday cards, the layouts, and altered art pieces. Join us as we "Celebrate the Season" and get an early start to all of our holiday themed creating.
Here is my very very first take on Chrismas card. Yes...I never tried making Chrismas themed cards and this is my very first take. Hope you like it.

Skates and Sleigh Frame Card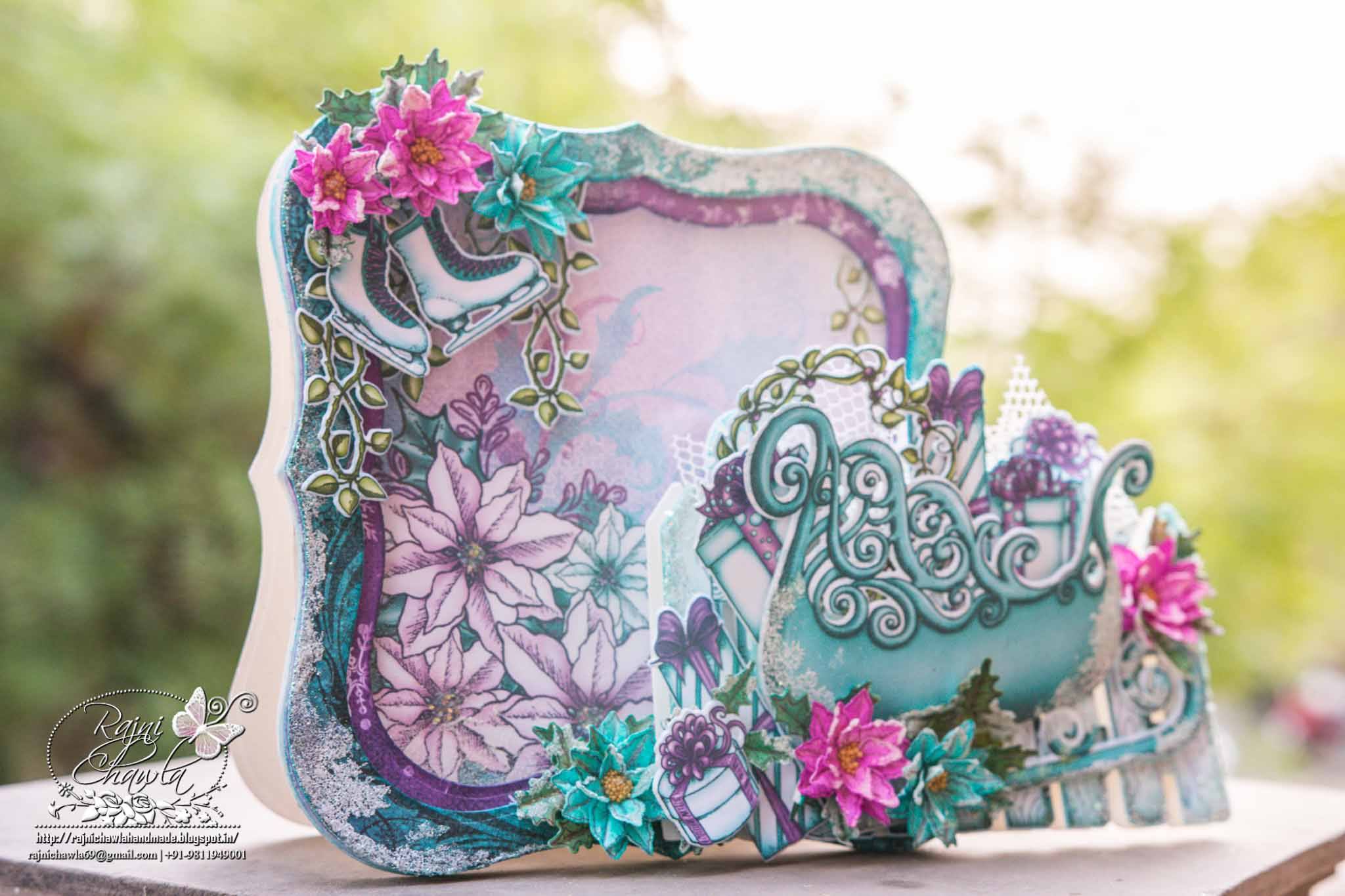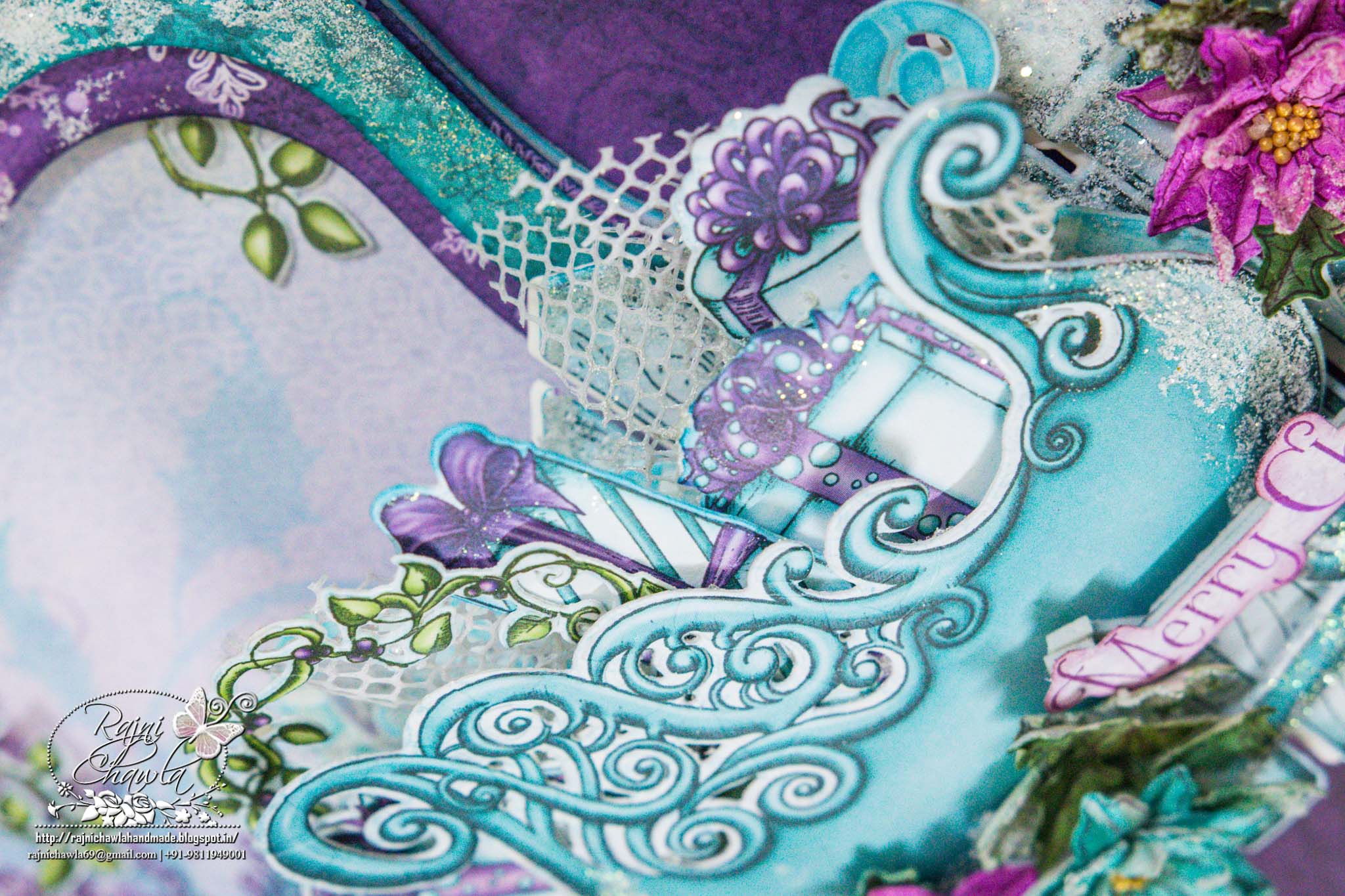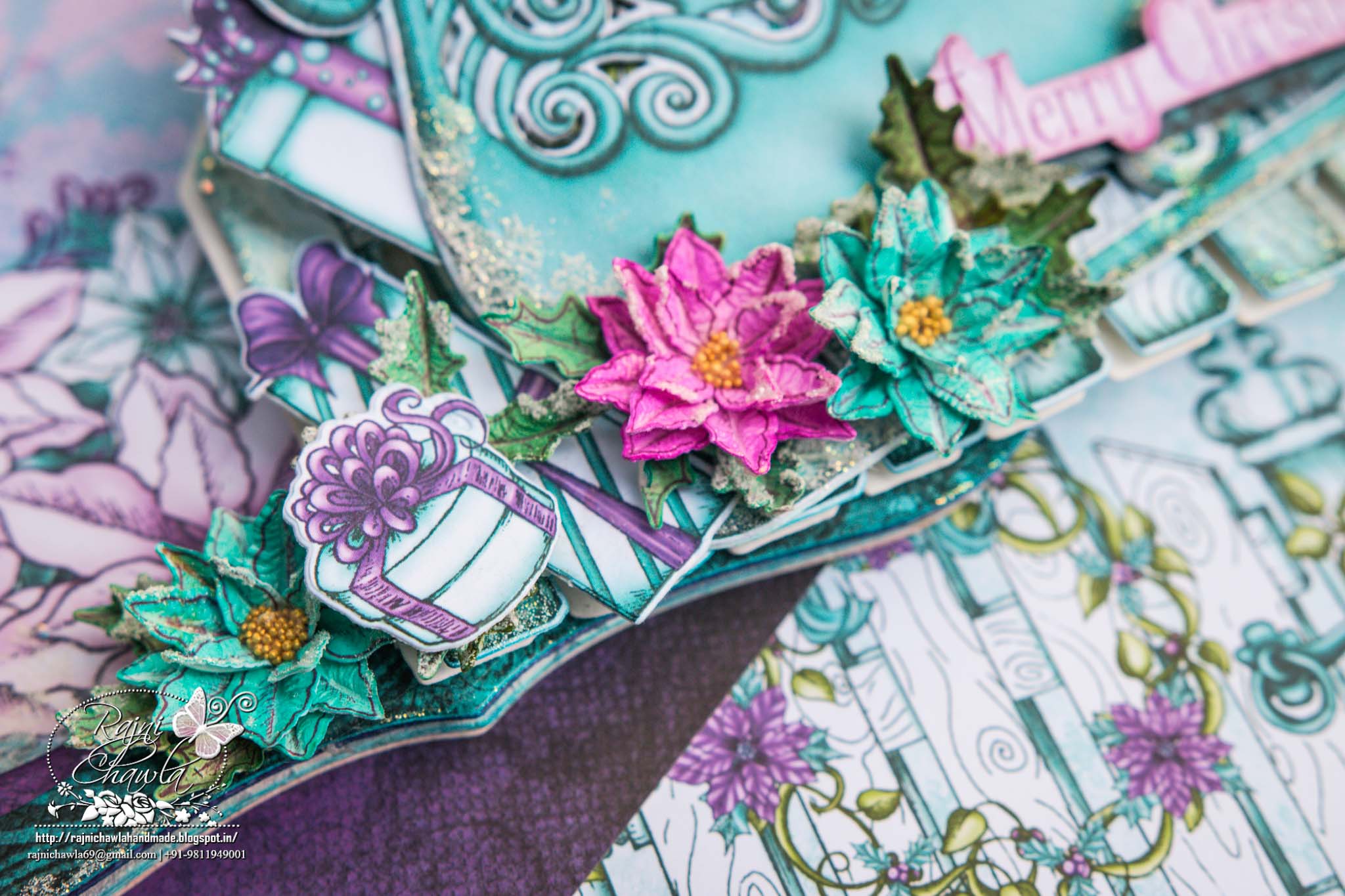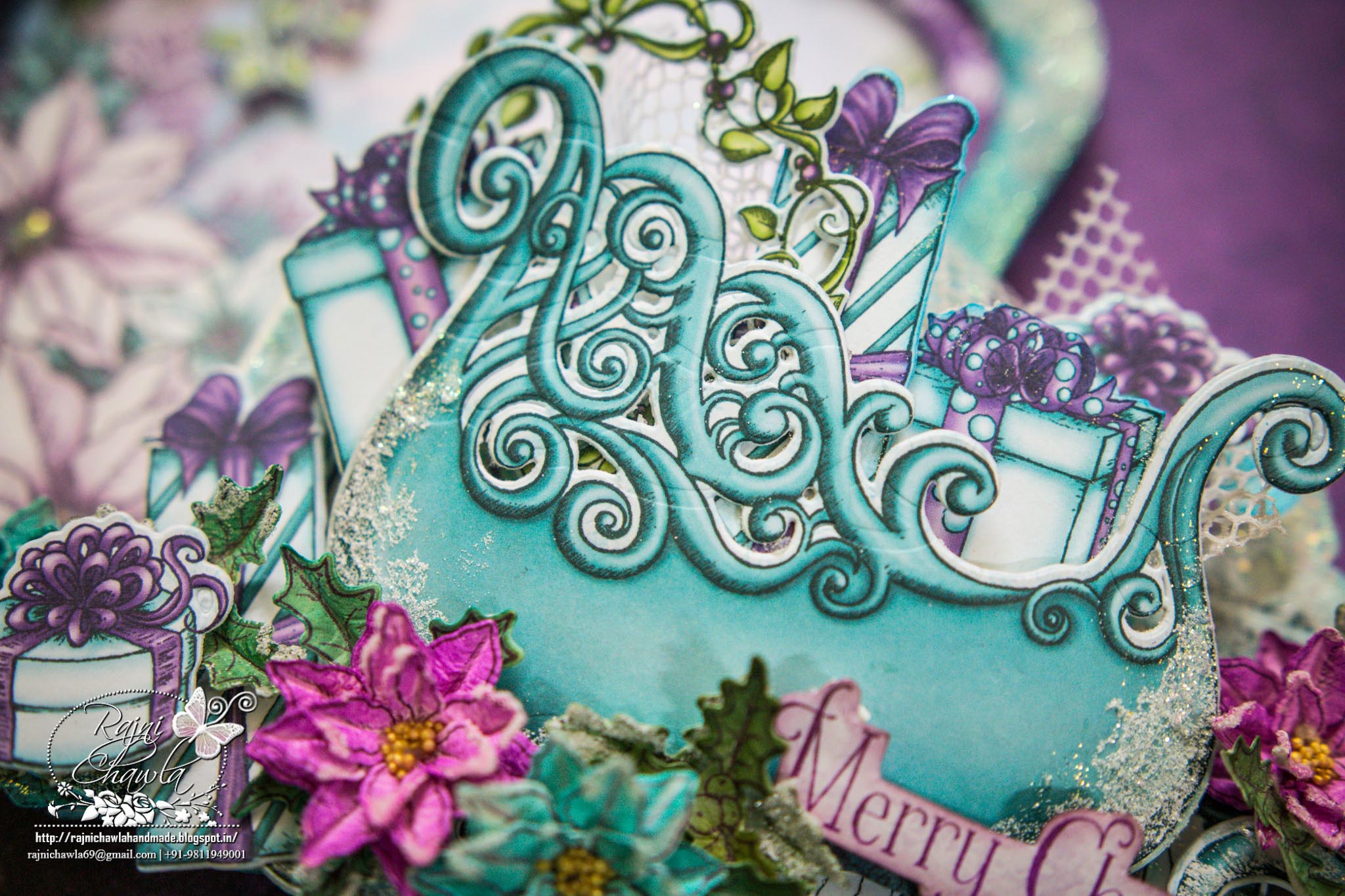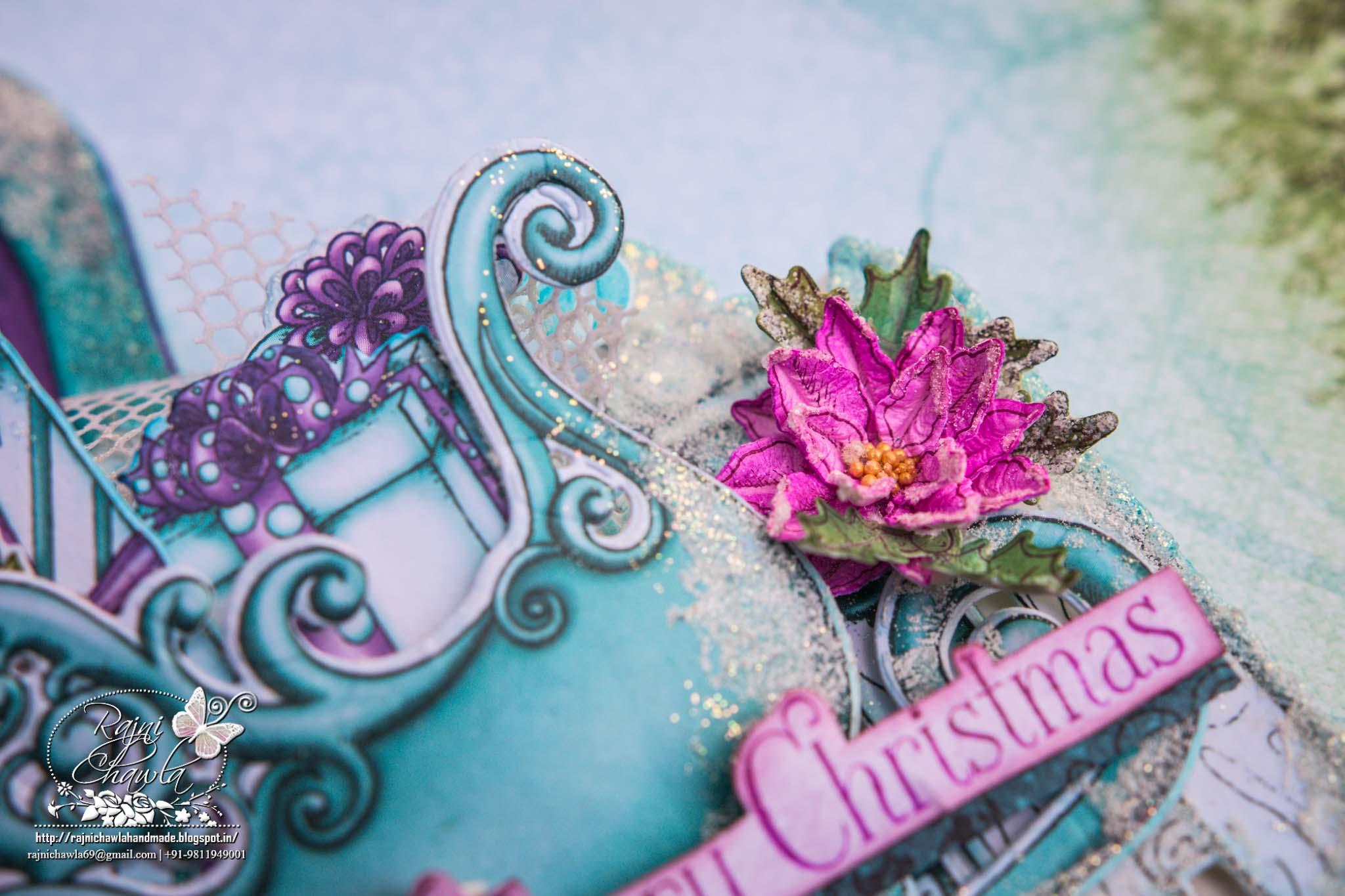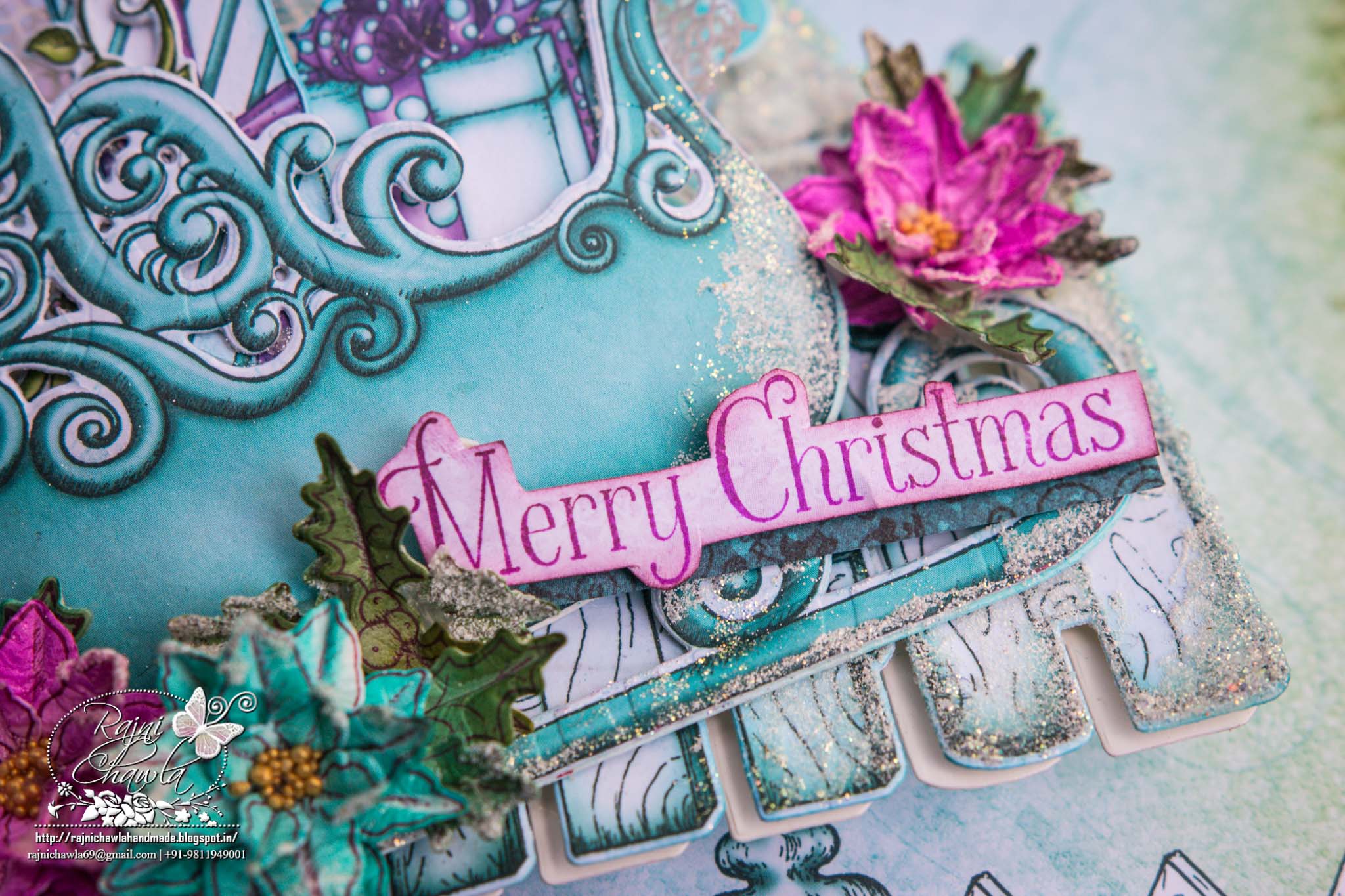 Products from Heartfelt Creations:
HCD1-7104 Ornate Sleigh and Presents Die
HCD1-7105 Festive Gate Die
HCD1-7106 Celebrate the Season Die
HCDP1-268 Celebrate the Season Paper Collection
HCPC-3745 Ornate Sleigh Cling Stamp Set
HCPC-3747 Celebrate the Season Cling Stamp Set
ANC818 Go Man Go Prills
TSMP504 Memento Dye Ink Pad - Lulu Lavender
TSMP604 Memento Dye Ink Pad - Summer Sky
DDOTS Double Dots 3D Foam Circles
741 Shell White Microfine Transparent Glitter
HCST1-401 Deluxe Flower Shaping Kit
Designer Dries Clear Adhesive
Other Products used: Acetate sheet, Smooth white cardstock, scoring board, Spellbinder's grand die Label 1, white net
Instructions: For the frame, cut one frame each by nesting first 2 largest dies of grand label 1 and first and third die of the same. Also, cut a mat from the same paper collection using largest label 1. Layer both the frames together and stick acetate sheet at the back, Decorate the frame with clear glitter randomly. Cut embellishments from the designer paper using their coordinating dies. Cut an extra gate and an extra Sleigh from white cardstock. Give 3-dimensional effect to the sleigh by adding extra foams and white net. Fill the sleigh with all the gift cut outs. For flowers Do check out Emma's video. Now assemble all the elements together as shown and give little extra effects of snow using snow paste. Once your front panel is ready , create the card base from the largest grand dies label 1 keeping the die half an inch lower to the card fold. Adhere the front panel on the card base and finish the card with a sentiment.