Giveaway by Bob n Betty (Sponsor no: 8)
Posted by Rajni Chawla
Good morning friends...


Hope you all are enjoying giveaways. It's time to announce my next sponsor today. If you are new and landed to this post directly, don't forget to check the main celebration post
HERE .
There are more giveaways listed on the post.
Today's giveaway is sponsored by
Bob n Betty
. Bob n Betty, a venture launched by a brother-sister duo, Rishabh & Deepika, with a vision of making a mark in this ever growing creative world. Hailing from creative backgrounds, both of them have served the corporate for 10 long years. But as it is universally accepted that creative people needs creative freedom, they decided to bid-a-due to their corporate career and began their entrepreneurial journey without waiting any further. Being an amateur crafter, Deepika presented the concept of pattern paper designing which was well accepted and integrated by Rishabh, who blended creativity with technology and thus began the adventure of molding dreams into reality. Bob n betty is running a successful
blog
with amazing young and talented designers to inspire all crafters.

Here is the review that I got from Bob n Betty: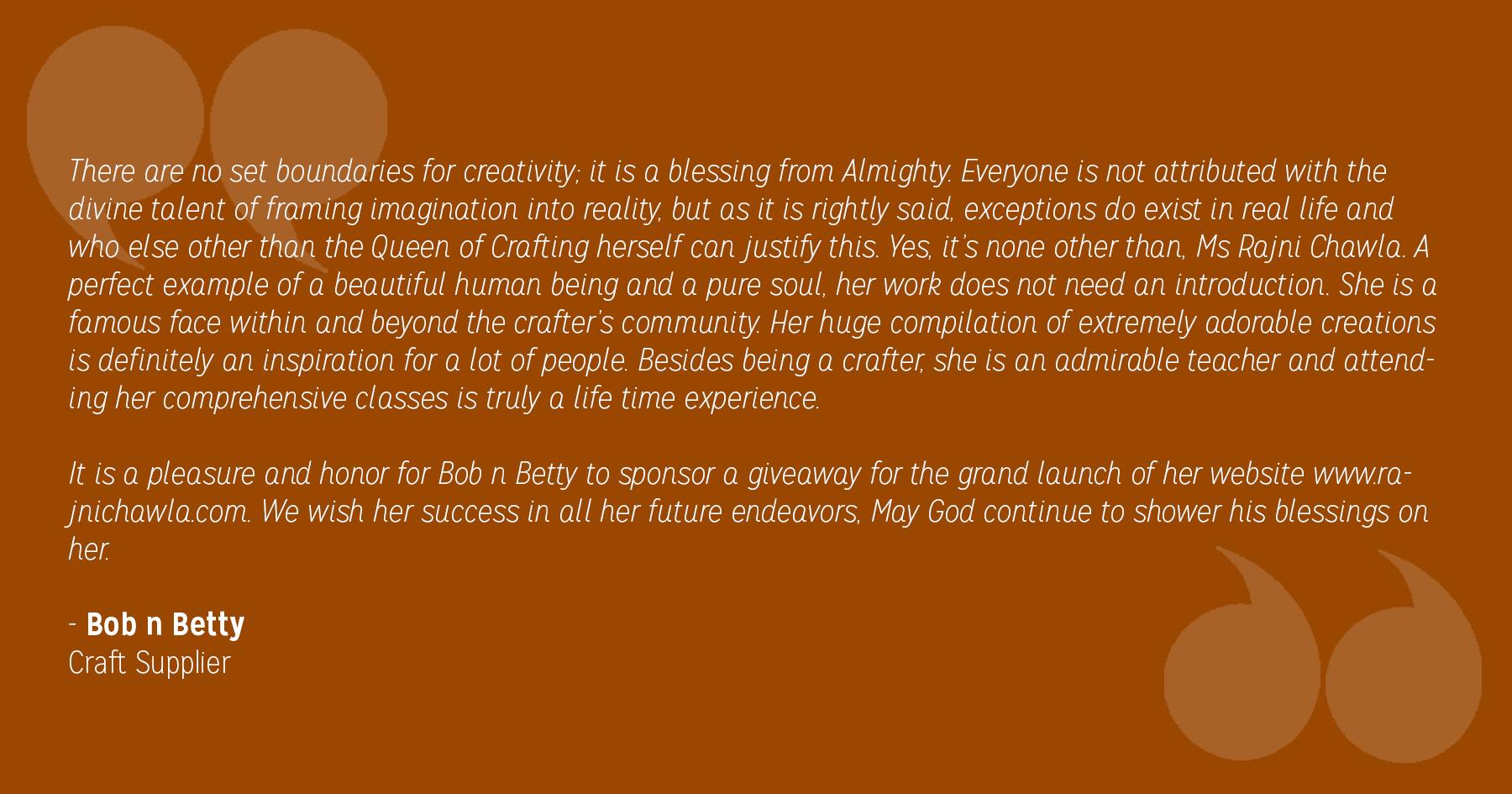 Bob n Betty is generously sponsoring

3 gift vouchers worth Rs 1000/- each for 3 lucky winners

to shop at their website.
Yes , Yes....you read it right.
Not one, Not two.....but three gift vouchers and cherry on top, the giveaway is

opened worldwide

. If you are an international participant, you just have to choose pattern papers worth Rs 1000 from their website and mail them at bobnbettyindia@gmail.com and they will ship

FREE!

!
Isn't it amazing guys.... So many giveaways from so many reputed craft suppliers.
What else a crafter want!!
Simple rules to follow:
Comment on the sponsor's giveaway posts for an extra chance to win the sponsor prize.
Don't forget to Like and share sponsor's facebook page.
Leave a token of love as a testimonial on the sponsor's facebook page. They will really feel loved and will appreciate your efforts too.
Also, join sponsor's facebook group for latest updates.
Share all the crafty posts that I make on my timeline and keep the settings open for public.( I m repeating this step here as crafters are not following this).
Don't forget to comment on the main celebration post and giveaway posts already announced to increase your chances of winning prizes.
Giveaway closes on 13th of May and the result will be announced on 18th May 2016. So hurry up and join me in my celebration.
I have lots more sponsors to announce that are celebrating by sponsoring my giveaway. So, stay tuned and watch my website and social media channels for more.
Thanks for your kind visit…

HAPPY CRAFTING !!