Make a Splash Card using Under the Sea Collection by Heartfelt Creations
Posted by Rajni Chawla
Hello, friends...
It's happy Wednesday again....which means time for more inspiration with
Heartfelt Creation's
new release. Today, I'm here with the new card using
Under the Sea Collection.
This is the
fintastic
collection
with the cool fresh breeze, the splash of bubbles, sparkles and vibrant shades of fish, the silence of shells and depth of the sea. Don't forget to check the beautiful splashy inspirations by all team members.
Products from Heartfelt Creations:-


Zig Clean Clear Brush markers, Staedtler Water Colour Pencils, Classics circle die by Spell Binder, Scoring Board, Mermaid Lagoon Distress Inks, Glue Dots, Smooth White Card Stock, Texture Paste and Clear Glitter.


Instructions:


The ready card measures 9 ½ inches X 5 ½ inches. It's a top-folding card. Cut a sheet measuring 11 inches X 9 ½ inches. Score into half from 11 inches and fold. Score the complete front panel at 1/8th inch all. The card has three mats. The first mat is again white which measures 8 ½ inches X 4 ½ inches. The top two mats are from the designer paper itself which is distressed from all the sides using Tim Holtz Distress Tool. Both the mats are inked with Mermaid Lagoon Distress Ink. The top most mat is then given little texture using bubble stencil and textured paste. Add little clear glitter when wet. Dry set it using the heating tool. For the fish, stamp the image on smooth white card stock with black Archival ink and paint them with Zig Clean Clar Brush Markers. Add little highlighting with Staedtler Pencil Colours. For the shakers on the cards, nest two Classic Circle Dies together to get the rings. Stick acetate sheet to the ring. Cut a mat with pattern paper. Add Prills and close the shaker elements using foam tape. Now, assemble the card as shown. Add sentiment and twine with beads, as shown.
FULL VIEW...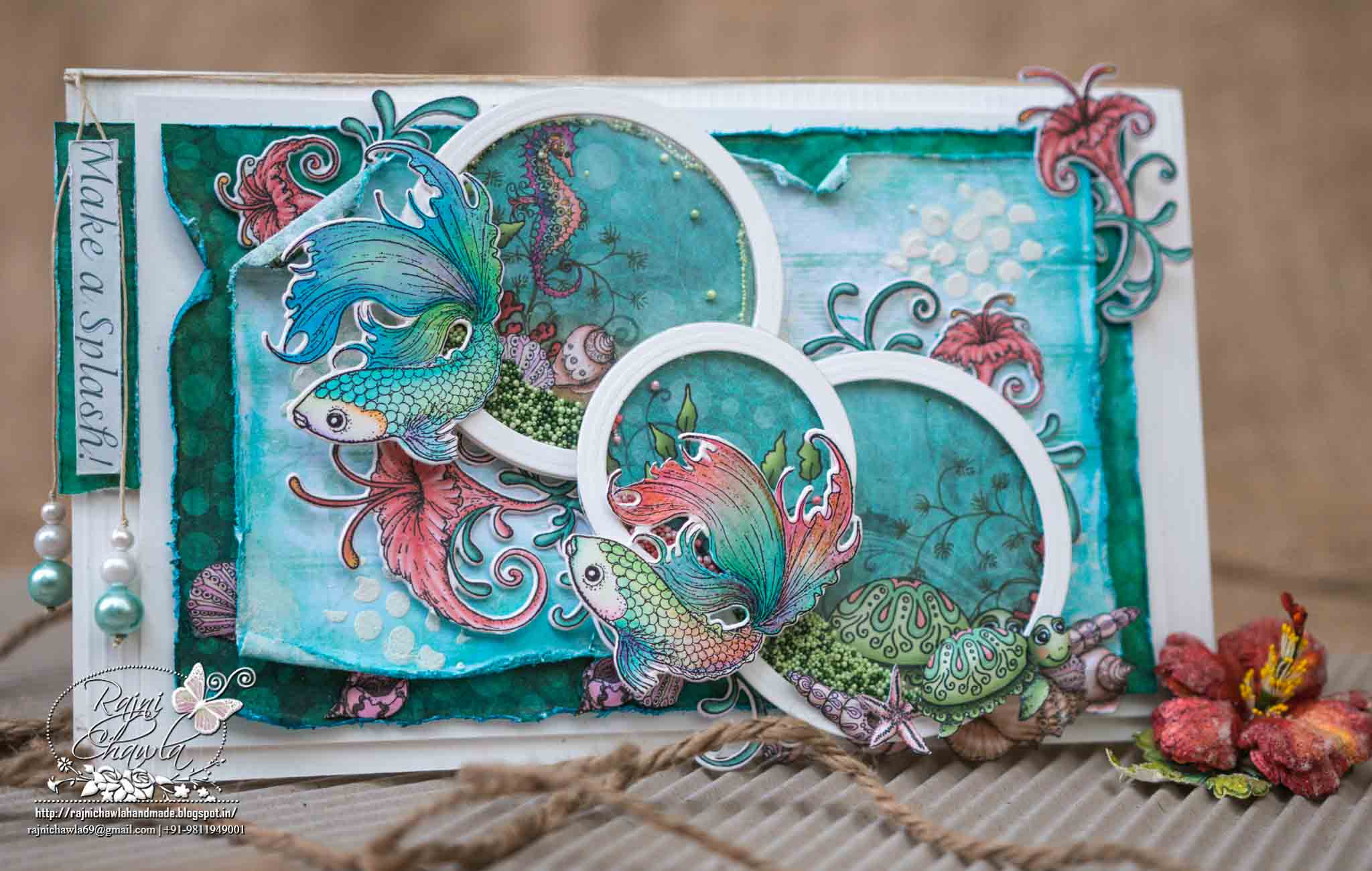 DETAILED PICTURES...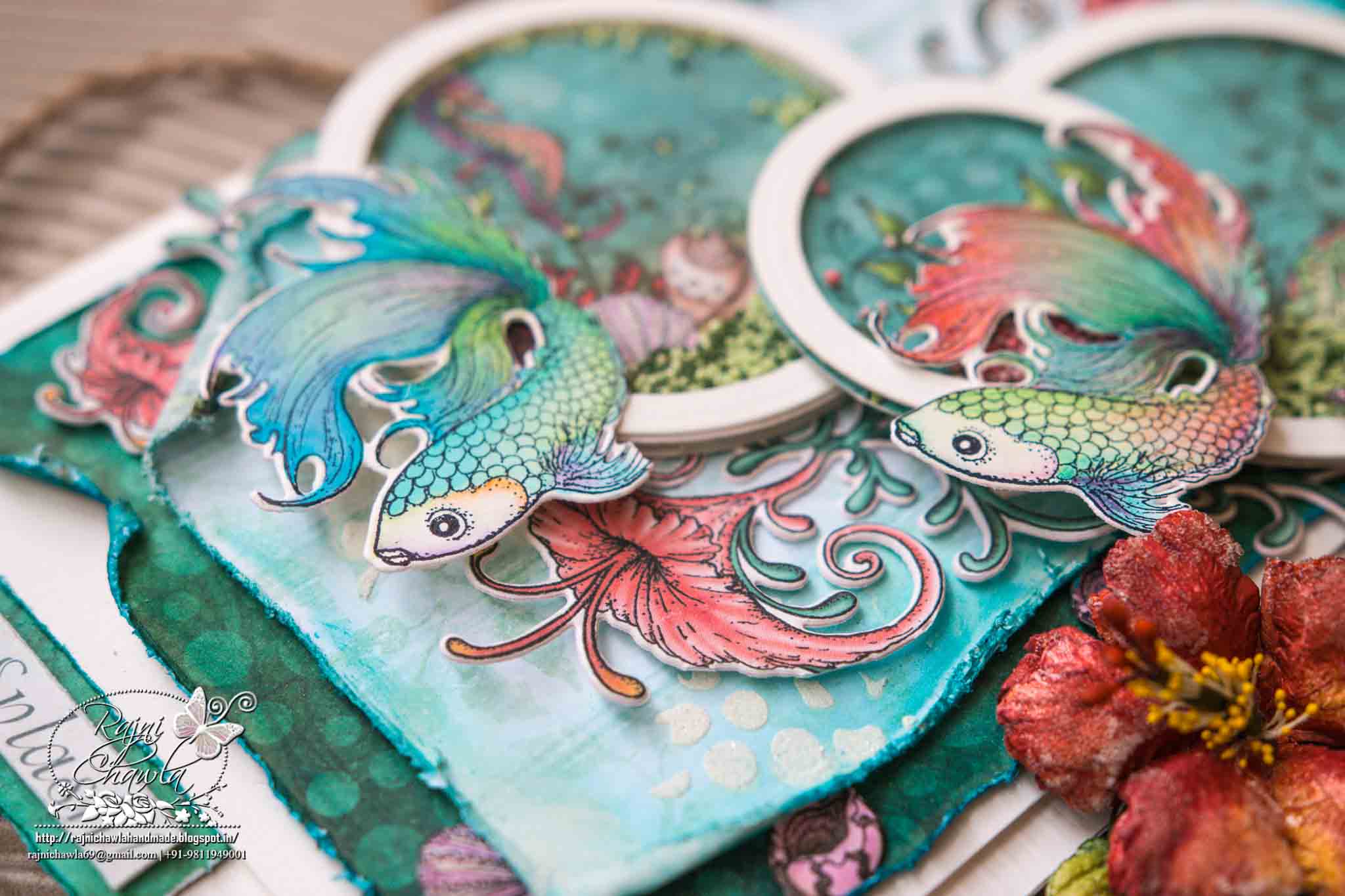 Loved the beautiful cut with coordinating dies..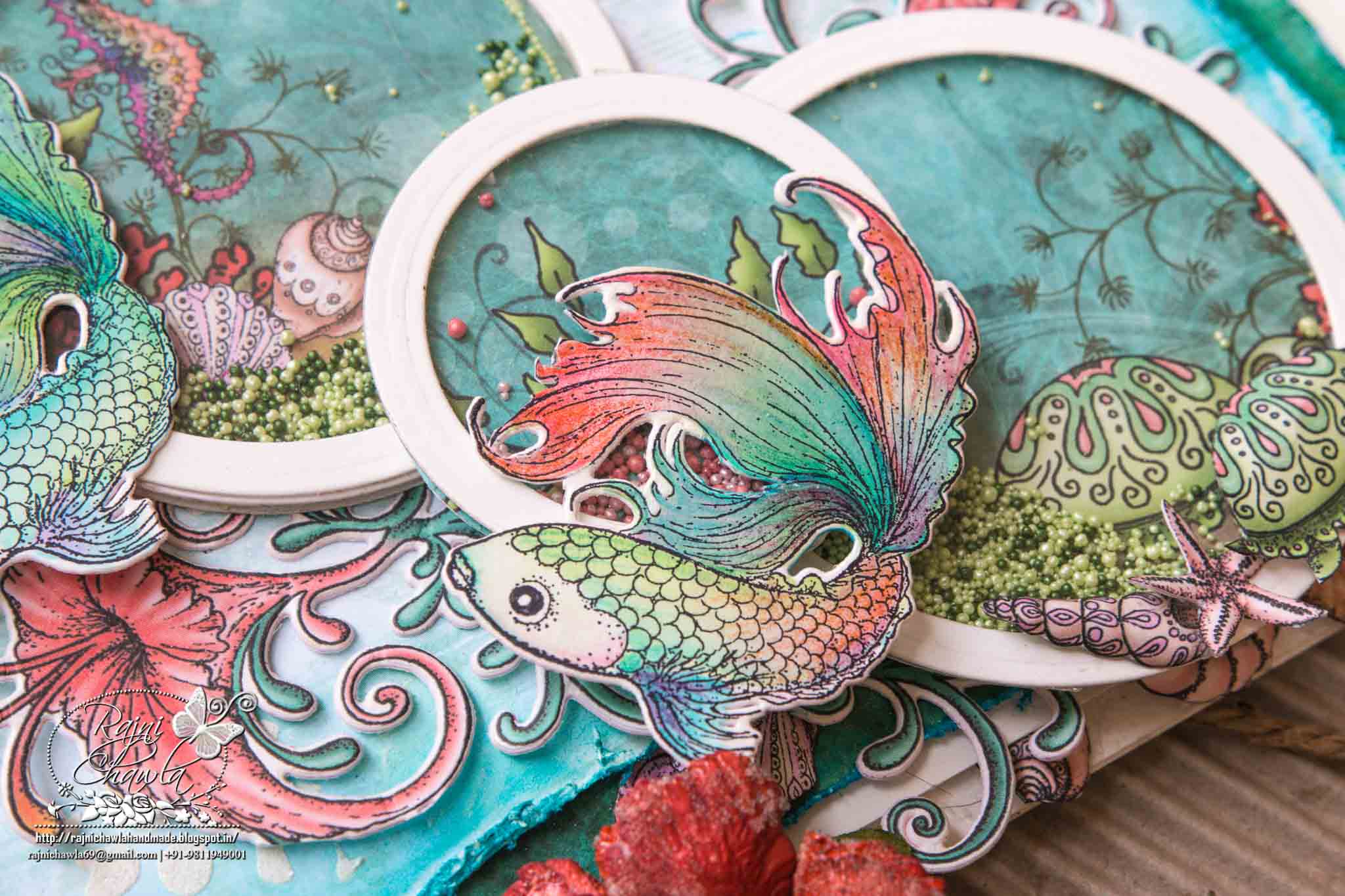 Loved the beautiful vibrant coloring with Zig clean clear markers. Wanted to add little glitter but avoided. These were looking gorgeous as it is.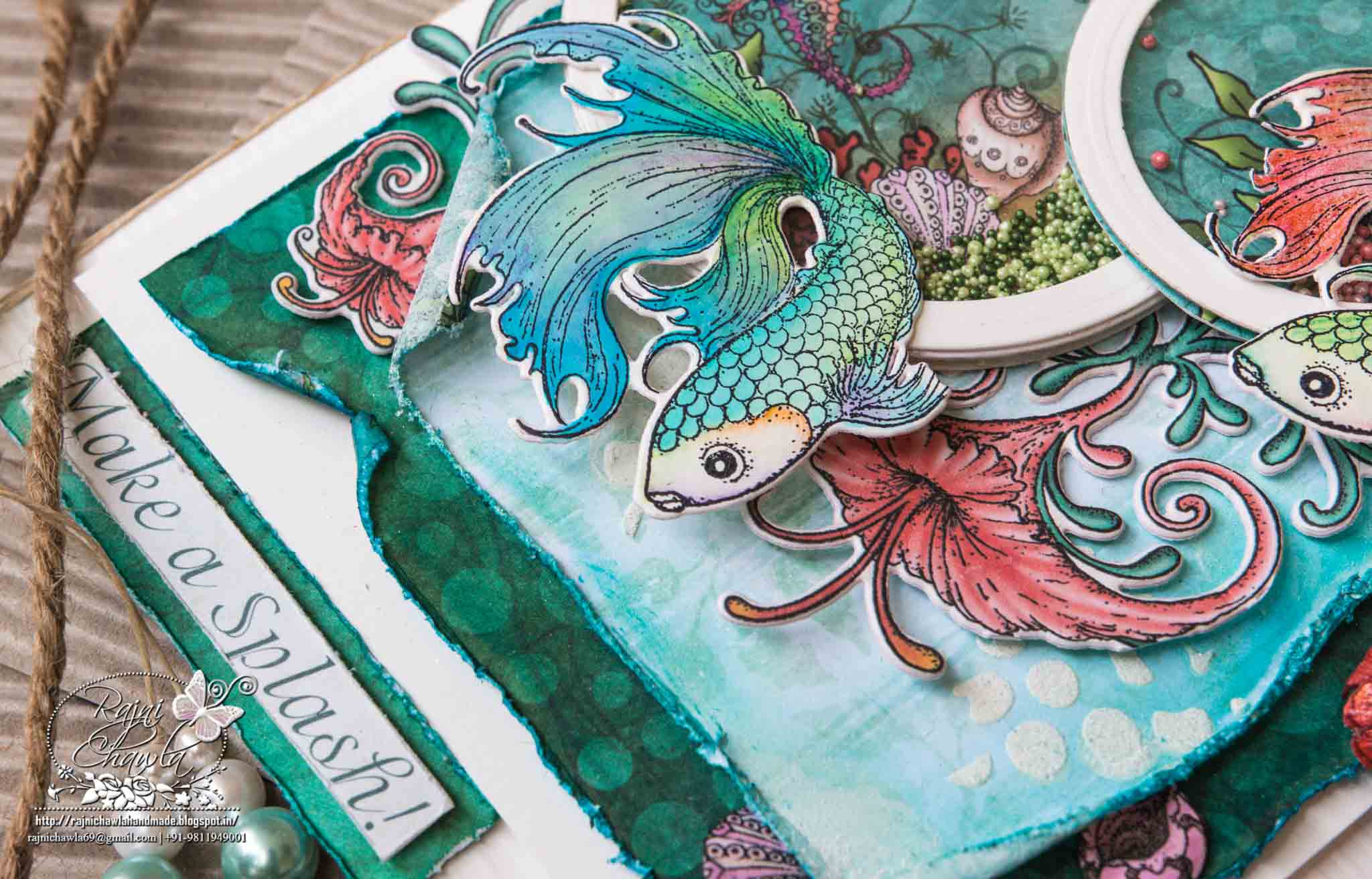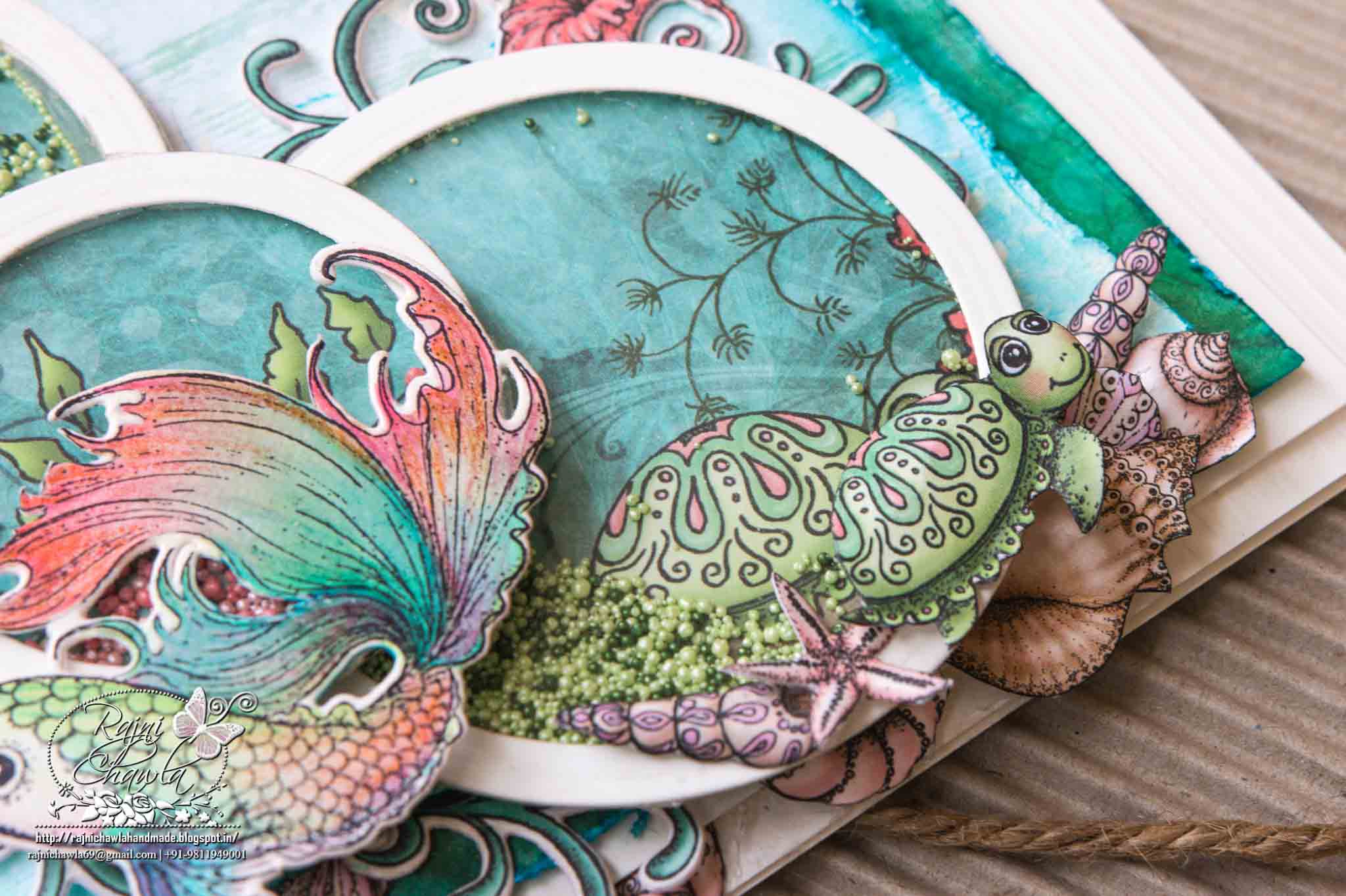 Be sure to visit Heartfelt Creations Blog for more Inspiration.
Thanks for visiting!
Happy Crafting